Wellllll…I was totally going to save this post for the Friday following Thanksgiving…butttt…I just couldn't help myself!  Sorry you guys.  The holiday spirit is within me…hehehe.
This post is for all you love-all-things-Christmas readers.  Our bedroom is all decked out for the holidays and I wanted to share it with you.  Hope you don't mind…and if you do…see ya later alligator! *said in the nicest way possible*
Please tell me that I am not the only one who adds a little cheer to their bedroom?
Maybe, a little Christmas tree…
…and maybe a wreath…
Every bedroom needs a little garland…
Those twinkling lights make me so happy every night I lay myself down to sleep.
A baby Jesus…after all…he is the reason for the season.
Some fresh flowers (thank you hunny), a happy snowman (my favorite), and a yummy candle…
Our bedroom is a bit of a shrine to the Chandler wedding.  That's okay…there is always room for more snowmen…
Just some little guys I've collected over the years…perhaps I shall start naming them…
Is it all too much?
Did I go overboard?
Have I gone mad?
Don't ask Bella…her opinion is void.
Truth be told, this bedroom has been ready for Christmas for a week or so.  This pregnant lady had to start early as she can only handle a little bit at a time.  Our Christmasfied bedroom is only the beginning of the madness!  I'll be looking forward to sharing more!  Yaaayy!
Tell me you add a little holiday bling to your bedroom too!
Yaaay! This post was featured at 
 and 
and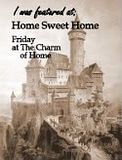 I often share with these amazing peeps…