Cue the sigh of relief.
Our sunroom was one of the reasons I started this blog.  Sharing the good, bad, and ugly of DIY home improvement projects along with other Chandler shenanigans.  That was one and a half years ago.  It took me ONE AND A HALF years to complete one room.  Clearly, my life is lacking of motivation and full of procrastination.  Fortunately, the little bean growing inside of me fixed that and now I am absolutely trying to check off that to-do list I made back in January.
Our house is certainly not the nicest or fanciest, but I am a believer that you can truly make a house your home with a little effort and TLC.
The following sunrooms were my inspiration:
1. Love the ceiling, chandy, and neutral palette with pops of color.
2.  Again, love the unique ceiling and the tile.  Love the fireplace too…but that was a no go.
3.  Ceiling inspiration.
4.  Color!!
Via Southern Living
Hope you guys enjoy the before and after pics!
First up are the before pics:    *After searching for about an hour for good before pics…these are all that I could find :-(*
This first picture is terrible, but it shows yellow walls, tiny trim, pink tile, pinkish wicker with flowery cushions.
The next pic shows the plain jane ceiling just when I started working on adding the coffered ceiling.
Trim removed.
Well…that is pretty much all of the before pics I have for ya…now to the after!
After watching a ton of youtube videos I installed a coffered ceiling…ALL BY MYSELF!  Holla!  Okay…okay…Craig did hold the 2x4s while I drilled them into the studs. 😛  They've been up for about a year now and haven't fallen on our heads yet, so I'd say it was a pretty successful project.  What I learned:  Using MDF as opposed to pine is so much easier because they are always the same exact size and you don't have to worry about the boards being warped.
I decided to paint the ceiling to help the bright white beams pop a little more.  Don't ask how much crown molding I went through before I finally figured it out…
Next, I removed all of the trim and replaced it with bigger trim.  In hindsight, I would have left the trim and simply added extra trim around the existing trim.  Lived and learned.  I really wanted to make the top part of the windows and doors chunkier, but by the time the basic trim and window apron was put in place…I was pretty much over it…
Repainted the walls.  Color: Perfect Greige Sherwin Williams
Next, up was the terrible task of replacing the tile.  Craig and I had a BLAST pulling up all of the tile and backerboard.
Craig picked out our new tile.  I'm not gonna lie…I kinda love it too.  It's very rustic.  If it were up to him, we would be living up in the woods somewhere in a dark cabin with moose heads all over the walls, which is weird because he is far from being a mountain man.  I will admit that I did not lay this tile.  My uncle did…I watched…and of course…learned.
I made some new curtains…sort of.  I like to have nice long panels and I just could not find any that I liked for less than $200…A PANEL.  Craziness. So, I actually found the 84″ linen panels on sale for $19.99 at JCPennys and I added fabric to the bottom using the no-sew method.  It adds length, pattern, and color.
Almost finished!  Next up, I switched out the light fixture.  Can you believe this house had this fan in almost every room?  So far we have replaced 4…only one more to go!  I now have a collection of white fans in my basement…any takers?  I have to mention that I am in LOVE with this chandelier…IN LOVE.  Like…I want to cuddle with it in love…
The wicker furniture came with the house.  It's pretty comfy and free is ALWAYS good.  What was not good was its pink tinted color.  Easy spray paint fix.
The faded flowery cushion fabric had to go, so I had them reupholstered.  Having things reupholstered is pretty expensive (to me).  Definitely need to add that to the list of things to learn to do.
Last, but not least, comes the fun decorating part!  I have no idea what my decorating style is…aside from being schizophrenic.  I just go with the flow.  While I enjoy cute vignettes, I have become a fan of simplifying life and ridding myself of so much "stuff".   Which is why I decided against adding shelving to the one good wall in the room.  I just felt like it would have made things a little cluttered, especially next to the chalkboard plant stand.  More pics ahead…yay!!!
I ordered this great ottoman online, which I normally don't do.  I am generally a "must touch and see before I buy" type of person.  Considering the fantastic price I took my chances and so glad that I did.  Me likey.
See that sheepskin rug lying across the settee?  Another online purchase.  I had plans to put it under the ottoman, but it ended up being way too small.  I thought, well…I can buy another one and lie them down together…but have you guys ever felt a sheepskin rug?  They are so thick and fluffy and soft and cloud like.  I decided that I didn't want to get it dirty so I threw it across the settee so that I can rub my face against it whenever I want.  I'm so weird…
The one good wall that I mentioned before.
Since the sheepskin rug didn't work out…I thought I'd try another farm animal.  Cowhide.  I asked my mom if she liked it.  Her response…"that poor cow."  Me: "Umm…do you eat beef?"  Mom: "Well…yes."
I am feeling a little iffy about it though.  It kinda blends in with the tile.  What do you all think?
That's it people.  After a year and a half of having my kitchen and living area a complete mess, it is such a relief to be finished with this project.  HUGE RELIEF.
Let me know if you have any questions or comments about anything and thank you so much for visiting <3
I'm going to go rub my face against sheepskin now.
Bye.
Yippee!!  This post was featured!!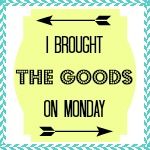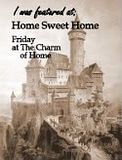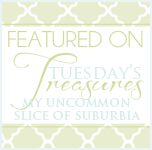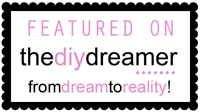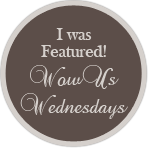 Tutorials and Tips Link Party, Fabulously Creative Friday
I often share with these amazing peeps…